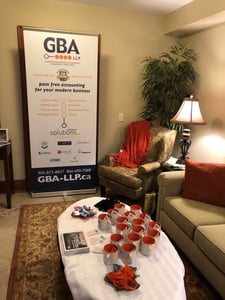 The 2019 Halton Hills International Women's Day Retreat event was hosted by the Halton Hills Women in Business (Halton Hills Chamber of Commerce). The event took place at the Stone Edge Estate Bed & Breakfast in Georgetown on March 8, 2019.
GBA LLP Chartered Professional Accountants team members were pleased to attend and share our knowledge about Cloud Based Accounting solutions and give away some cool swag to the many women entrepreneurs in attendance.
The event was uplifting and supportive as we applauded passionate, successful women from business owners, to start ups, to "mompreneurs" and everyone in between. About 80 women attended the daylong event attending sessions that explored; communicating in the '20s, health and wellness education, healing the mind, body and spirit, physiotherapy, nutritious food preparation and updating our professional head-shots.
A number of vendors and service business, such as GBA, were also there to provide additional education, swag and information about their products and services. Attendance was great and the interaction with the women was wonderful.
GBA, our team that attended, and myself personally, would like to thank all the attendees, the vendors, the wonderful Stone Edge Estate Bed and Breakfast, the Halton Hills Women in Business committee and Halton Hills Chamber of Commerce for such a great event. Let us promise to motivate, uplift and empower each other, and raise our voices together as one, to make this world a better place for woman in business and in general overall.