In this blog, we will be looking at the 6 critical reports that you need to look at to ensure you success with your small business.
Profit and Loss Report vs Budget
As you likely know, the profit and loss report is like a "movie" of the results of your business. I say it is like a movie because it takes place over a period of time – either a month, a quarter or a year. You can run this report just by itself and don't compare it to anything, but how do you know where you are going unless you have a roadmap of where you are going – in business, we call this a budget.
A budget is probably one of the most important things you can do. It is essentially your financial goals for your business. It will drive both your conscious and sub-conscious decision making to help you attain your goals. You must ensure that your goals are "SMART."
S – Specific – a goal cannot be to increase sales. It needs to be specific – increase sales by 10% for example.
M – Measurable – you need to be able to measure or track it, unless how would you know whether you are meeting your goal. If your goal is to make customers happy, you would need to implement a customer satisfaction survey in order to measure their happiness.
A – Achievable – if your business has built a better mousetrap – the goal of having this new mousetrap in every single home in Canada is likely not achievable.
R – Realistic – this is pretty clear – a goal has to be something that you can do, that is within your skill set or ability to influence. Ending world hungry is a great goal, but is one not likely to be done by one individual or business alone.
T – Timely – your goal must have a timeframe. Increase sales by 10% is a great start, but without a time frame, you have no realistic way to track your success. So to increase sales by 10% in a year, is an example of a SMART goal.
Now that you built your budget, you need to compare your actual results against it. Why is this important? Well, in the budget phase, you have planned your year. The actual doing is the execution of your plan. The comparing the actual to the budgeted plan is monitoring. After you monitor your plan, you should determine what you are doing well (Sales are up 11% vs a budget of 10%), or expenses are higher than planned – then adjust your plan to ensure your end goals are on track.
Profit and Loss Report to Prior Year Results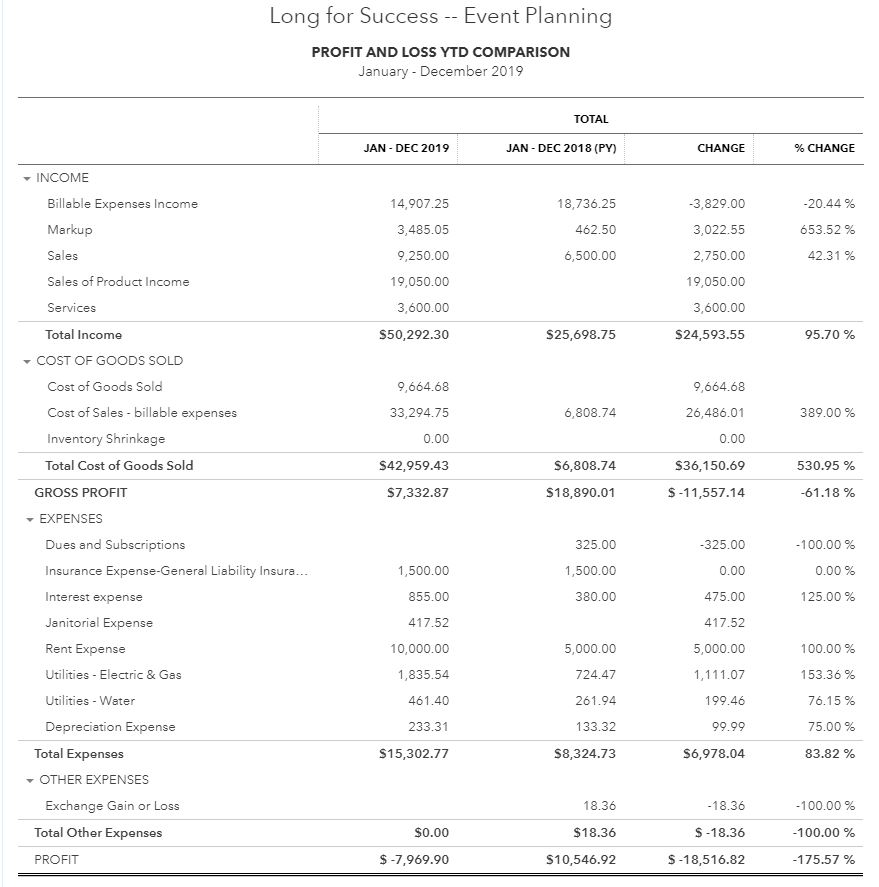 So, for those of you without a budget, you should at least be comparing your results against the results of the last period (month, quarter, or year). Again, this is to ensure that you are doing things to ensure you and your business are trending in the right direction. Sales are going up, margins are going up, costs although going up as you have more sales, you would hope are stabilizing and becoming a smaller percentage of your overall sales.
Balance Sheet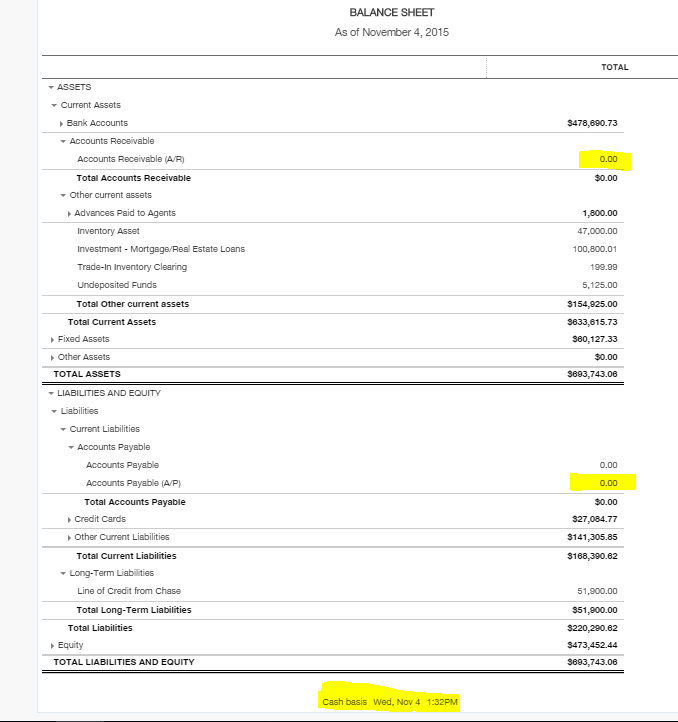 As the saying goes… Cash is King and the balance sheet is where you monitor that. Whereas the Profit and Loss Report is like a movie showing you your results over a period of time, the Balance Sheet is akin to a picture. It shows the balances at the end of a specific point in time (day). The report for June 30th, will show your bank and credit card balances, the HST balance, the total amount your customers owe you (A/R) and the total amount you owe your suppliers (A/P), etc.
This snapshot picture shows you how healthy your business is from a cash perspective. Simplistically speaking, it shows you your ratio of your assets to your liabilities. The more this ratio exceeds 1.0:1, the healthier your business is – essentially you are able to pay off your debts as they become due.
Having a ration that is less than 1:1 is an indication that the business will or is in need of cash. Being aware of this ratio and it's trend will help give you plenty of time to take action to avoid cash shortages or to feel confident that the company can make purchases of capital equipment as an example.
Aged Accounts Receivable Reports (Aged A/R)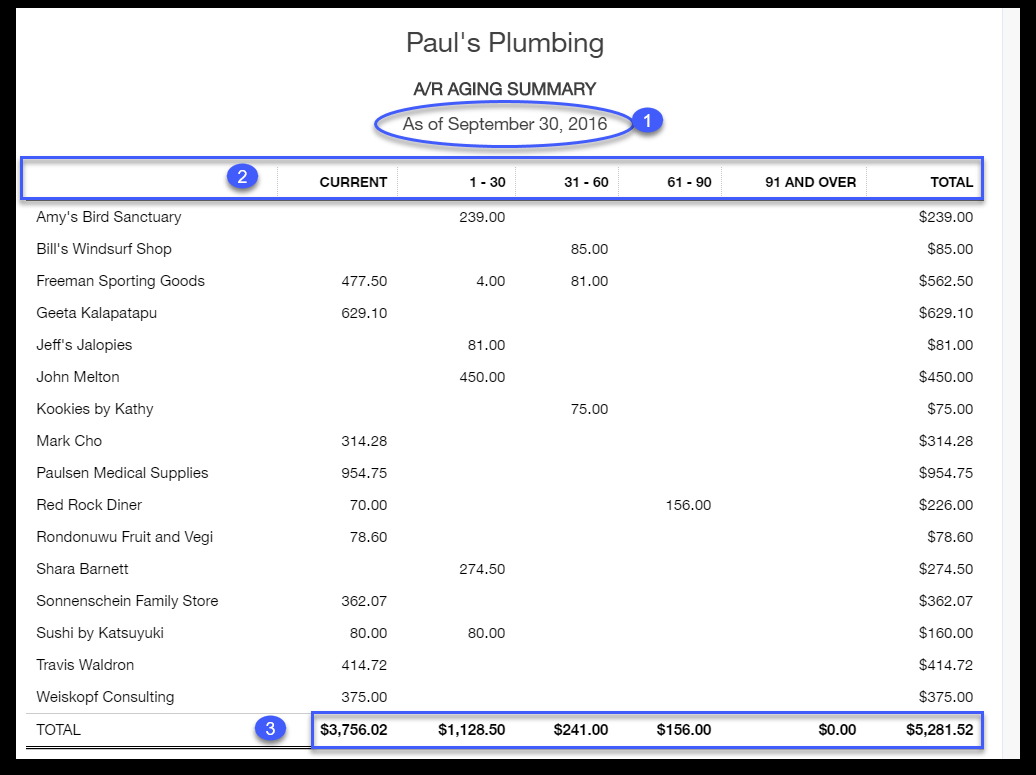 The purpose of this report is to detail all the customers that owe you money and breaks out into periods how long they have owed you the money (#2). If you are a pizzeria, then you should not have any receivables as people usually pay for the pizza when they receive it. However, if you manufacture goods and sell them to customers, generally the customer will have "terms" which is credit that you extend them and when you expect them to pay. For example, business will offer terms to their customers of 15, 30 or 60 days – it truly depends on the industry that you are in and the credit worthiness of your customer.
This Aged A/R report will break out your receivables into 30, 60, 90 days. So, you can see which customers owe you money and for how long. In QBO, you can enter your terms so that the report will classify your receivables into current (due), then 30, 60, and 90 days past due.
Then you use this report to follow up on customers who owe you money which has fallen outside their terms. For example, if you ask your customer to pay within 30 days and it is now 60, you need to follow up and ask them for payment. Should they not be able or willing to pay, you need to consider whether to continue the business relationship with them. Sometimes, they have a small issue with the delivery, and this is the time to take care of it – make a concession, reship part of the order, or something else. You want to maintain your customers' happiness, resolve issues as soon as possible, in order to encourage payment with your terms.
Something to keep in mind is you want to eliminate any barriers to getting paid. If a customer wants to pay by credit card – take credit cards. Getting paid is what this is all about – remember Cash is King!
Aged Accounts Payable Report (Aged A/P)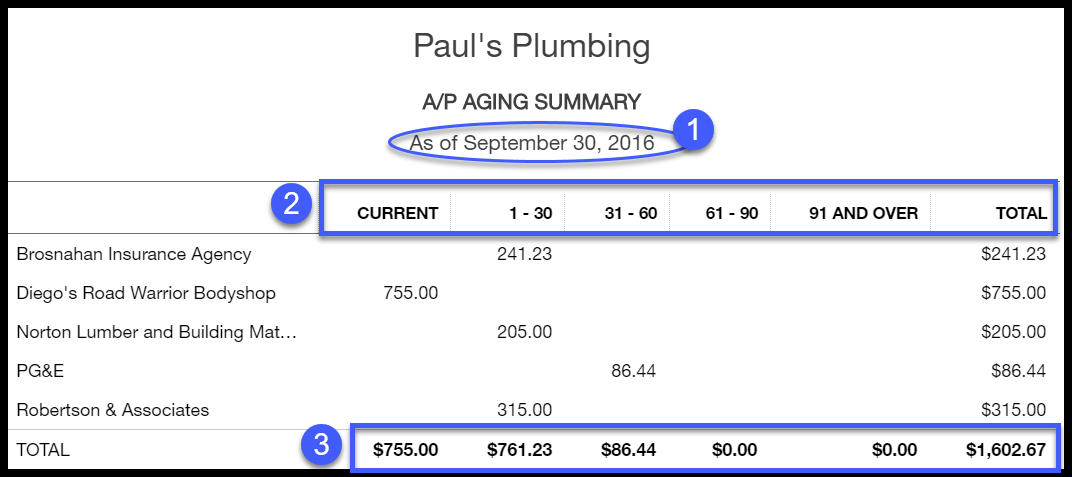 Aged A/P is the same as aged A/R except it is the money you owe your suppliers. Again, it can be set up with your vendors terms to show you what is current and what is past due. Suppliers and vendors are the lifeblood of your business. You certainly do not want to jeopardize any relationship with them, especially ones that would be considered critical to your business. With the pizzeria example, you want to make sure the supplier of your food is paid on time, because without the pizza ingredients, it is hard to sell pizzas.
As a rule of thumb, you want to collect you're A/R as soon as you can, and you want to pay you're A/P as extended as possible (within your terms). This helps you retain cash in your business, and remember Cash is King!
Bonus report - Bank Reconciliation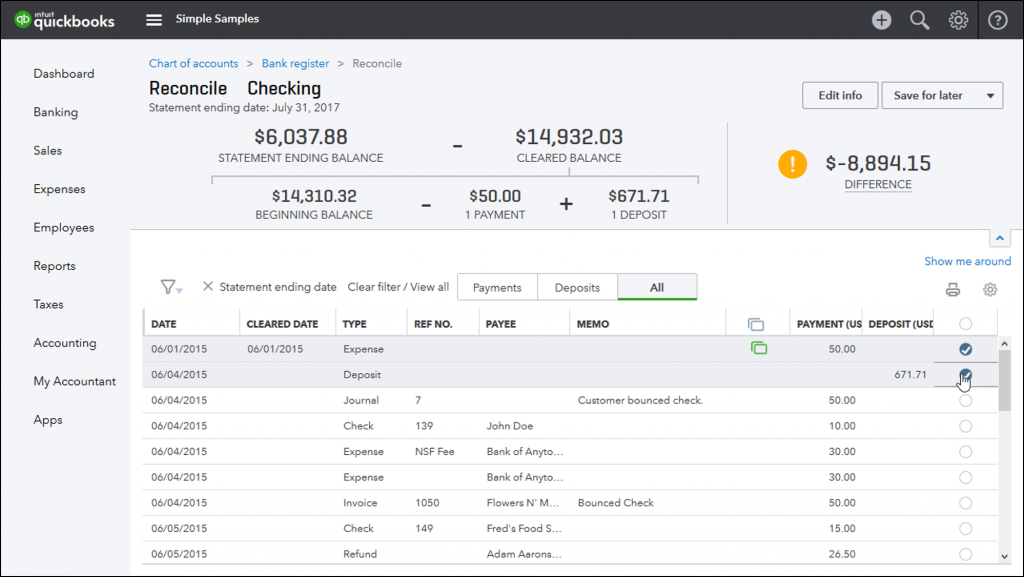 It should go without saying - we have talked about how Cash is King, but you won't know how much cash you have if you don't keep your bank transactions reconciled. In QBO, it is so easy to import your bank and credit card feeds that there is no reason to not reconcile these transactions. When these are reconciled regularly (at least monthly), you can then trust the balance in the bank on your balance sheet report.
Lastly what we suggest our clients do is to also review what other reports are essential to the success of their business. There are countless reports in QuickBooks Online and endless other because you can customize reports and save them for future viewing. Figure out what is important to monitor your business. Then set up all the reports as separate tabs in Chrome so when you open QuickBooks Online, you essentially have a management dashboard of your information at your fingertips.
Here's to your success in achieving your SMART goals in business and in life.
---
GBA LLP is a full-service accounting firm in the Greater Toronto Area, but we primarily service all of Ontario as well as the rest of Canada, except Quebec. Our team of 20, provides Audits, Reviews, and Notice to Reader financial statements, as well as corporate tax returns. We also provide specialized corporate tax and succession planning for small and medium business, as well as some general advisory services.
If you would like to schedule a call to discuss your accounting or tax needs with one of our team members, please complete the free no obligation meeting request on this page.