75% Wage Subsidy (CEWS)
Updated April 19, 2020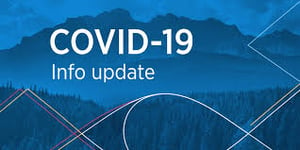 The Canada Emergency Wage Subsidy (CEWS - the 75% Wage Subsidy) was passed into law on April 11, 2020. This law amends the Income Tax Act to introduce an emergency wage subsidy as part of the COVID-19 response, specifically it details the 75% wage subsidy and how it can help businesses during this unprecedented time.
It is a complex law. Bill C-14 encompasses about 11 pages, and about 5 of them are definitions of terms that have not been used in the Income Tax Act before, or they are very specific to this provision. You should consult your tax professional if your situation is not straight forward.
Previously, it was indicated that the government wanted to provide an enhanced Wage Subsidy (75%) to help employers keep workers on the payroll. Here are some of the details that were initially released with the recent changes.
Qualifying Periods
12 weeks or 3 months were identified as qualifying periods. This part has not changed, except for point 4 – which is new.
the period that begins on March 15, 2020 and ends on April 11, 2020
the period that begins on April 12, 2020 and ends on May 9, 2020
the period that begins on May 10, 2020 and ends on June 6, 2020
a prescribed period that ends no later than September 30, 2020
This 4th period can allow the government to extend the CEWS without introducing and passing a new Bill into law. This would be done through what is called regulations – which are used to give more detail on how to implement laws into practice.
Specified Percentage
Initially the government indicated that an employer would have to experience a 30% drop in revenue in the qualifying period to be eligible for the CEWS.
The government has amended this to indicate the first qualifying period need only a 15% drop in revenue, as for practical purposes, it was business as usual for the 1st half of March.
The 2nd and 3rd periods (April and May) will need a 30% drop in revenue for a business to qualify for CEWS for that period (more on that in a moment).
Additionally, for period 4, the government has not provided any guidance specifically in the provision – again, presumably, this will be detailed in regulations to be issued if needed.
Reference Period
Previously the government identified that you would have to experience a revenue drop from this year to the prior year – which is officially identified as the "reference period".
This raised some questions. What if your company recently opened? What if you were a high growth company and your sales keep going up each month?
For these and other reasons, made some modifications in the final Bill. The Bill calls for the automatic comparison of this March to March 2019, April to April, etc. However, the business can elect to use the average revenue of the first two months of 2020 as their reference period (January and February). So for March you would have to experience a 15% drop in revenue from the average revenue of January and February. 30% drop in revenue for April and May. Again, this will require that the business elect to use the January/February reference period – this should be done in consultation with your GBA tax advisor.
If the business elects to use the January and February 2020 revenue average for March, it must use it for all future periods. Eligibility cannot be switched back and forth to assist you in maximizing the eligibility.
Eligibility
The government made what appears to be a small modification, but we think it is very important.
In terms of eligibility – to determine eligibility you first determine your revenue reduction versus your reference period. If you meet that required reduction in revenue in either the current period or the period immediately before you qualify for the CEWS for that period.
So here is an example. A company has a 15% revenue reduction for period 1, a 20% reduction for period 2, and a 30% reduction for period 3.
Initially, the company would only be eligible for CEWS for period 1 and 3. However, with period 2, the company now only need to meet the revenue test in period 2 or have been eligible for period 1 (the period immediately before period 2). So with this addition to the law, the company is now eligible for CEWS for all 3 periods.
Here is a table of how this looks. Note that in the chart, Qualifying period relates to when employees were paid.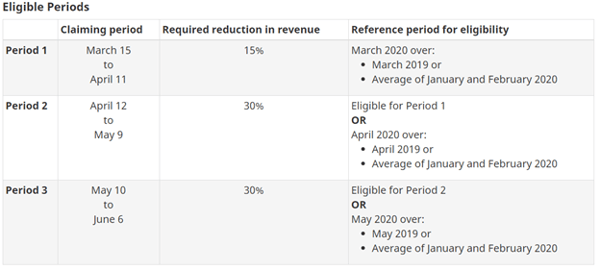 Eligible Entity
Quick refresher on eligible entities. Pretty much every company is eligible as long as they are not publicly funded.
Eligible Employees
Eligible employees must work for an eligible entity. The must be employed in Canada by the employer during the qualifying period. They cannot include employees who are without remuneration (pay) by the eligible entity in respect of 14 or more consecutive days in the qualifying period. This is to essentially to not allow employees to get CERB and the employers to CEWS. Again, this law is complex, and if you find yourself in more complex situations, please consult your GBA advisor.
For example, if you hire a new employee half way through a qualifying period, you cannot claim CEWS on them for that period. Or, if you let an employee go by March 29th, 2020, you cannot claim CEWS on their wages for March (period 1).
Another clarification provision. If an eligible employee is employed in a week by two or more qualifying entities that do not deal with each other at Arm's length (sister companies, etc.) then those companies must calculate if all the wage was paid by one entity – no double dipping – employer is only entitled to $847/week maximum.
Eligible Remuneration
Eligible remuneration, of an eligible employee of an eligible entity, means
Salary, wages or other remuneration
Certain fees, commissions and other amounts for services earned.
Other remuneration from which employers would generally be required to withhold or deduct amounts to remit to the CRA (such as taxable benefits)
It would not include retiring allowances, stock option benefits or any amount received that can reasonably be expected to be paid or returned.
You cannot increase the employees' remuneration to just increase the CEWS.
Arm's Length
There are special rules for people dealing with companies that are not at Arm's Length – for example, you own the company. You are not dealing at Arm's Length with your company.
When determining your CEWS, you must not arbitrarily increase your wages to maximize your CEWS. IN order to determine what you are allowed for CEWS, you must look at your pre-crisis average weekly remuneration to determine your baseline remuneration. Again, we caution you that there are complex rules and consultation with your GBA advisor is strongly advised.
Qualifying Revenue
Qualifying revenue is considered to be the following:
the sale of goods
the rendering of services
the use by others of resources of the eligible entity, in Canada, in the particular period
There are special rules for charities and not for profit organizations. Again, consult with your GBA advisor.
Qualifying revenue does not include extraordinary items (like the sale of equipment or a building), amounts derived from non-arm's length entities, or the CEWS or TWS subsidies.
If a company is part of a group of companies, the company can calculate the drop in revenues either as a stand-alone company or as part of the consolidated group – using the consolidated group requires an election with the government.
Accrual or Cash Method of Accounting
Typically, companies must follow the accrual method of accounting for tax purposes. However, an eligible entity may elect to use the cash method to determine the qualifying revenue. Again, should the company choose to use the cash method of accounting, it must exclusively use this method for all qualifying periods.
Qualifying Revenue – Anti Avoidance Rules
If the eligible entity:
enters into a transaction or series
Takes an action or fails to take an action
that reduces its qualifying revenue in the current reference period,
and one of the main purposes is to gain access to the wage subsidy,
The qualifying revenue for both current and prior reference periods are deemed to be equal (ie. "revenue drop test" not met and thus do not qualify for subsidy), a penalty of 25% of the amount of the subsidy will be applied.
Flagrant misrepresentations can lead to penalties of 225% of the CEWS and up to 5 years of imprisonment.
Wage Subsidy Calculation
A couple of points to note here. There is no cap as to the number of employees or the dollars that can be claimed under the CEWS.
The CEWS will be reduced by the TWS (10% wage subsidy).
Both the CEWS and the TWS is expected to be heavily audited over the next 6 years, and not the standard 3.
The CEWS also is reduced by any work sharing program that you may be receiving, and funding that the employee is receiving from EI because of the same work sharing program.
The employee needs to earn $1,128/week for the company to maximize the CEWS of $847/week.
Remember there are special rules for employees who do not deal at arm's length with the company (ie. Owners and their families).
The subsidy is calculated from the date the wages were paid.
If you are having employees away from work but are receiving full wages and not working (laid off with pay), then you may be entitled to a CPP and EI subsidy on the employer's portion – this is 100% of the premiums.
The Wage subsidy is taxable to the business.
Made a Mistake?
Hope you don't.... If you make a mistake in the calculation and you submit it – you cannot make a change or amend it. Again, there is no opportunity to correct it to a higher amount. SO ensure that you review it thoroughly.
Public Information
Included in the provision, was a section that says the Minister may communicate or otherwise make available to the public in any manner the name of any person or partnership that makes an application for CEWS.
This was probably included to dissuade large public companies from taking advantage of the CEWS and to possibly receive bad publicity afterwards. Smaller companies probably need not worry too much, but you should weigh any potential risks, nonetheless.
How to Claim
At the moment, nothing is official. There will be a prescribed form that has yet to be developed, and applications will either be done through the CRA My Business Account or an Online Portal.
---
This blog is not meant to provide specific advice or opinions regarding the topic(s) discussed above. Should you have a question about your specific situation, please discuss it with your GBA tax advisor.
GBA LLP is a full-service accounting firm in the Greater Toronto Area, but we primarily service all of Ontario as well as the rest of Canada virtually, except Quebec. Our team of 20+, provides Audits, Reviews, and Notice to Reader financial statements, as well as corporate tax returns. We also provide specialized corporate tax and succession planning for small and medium businesses, in addition to general advisory services.
If you would like to schedule a call to discuss your accounting or tax needs with one of our team members, please complete the free no obligation meeting request on this page.