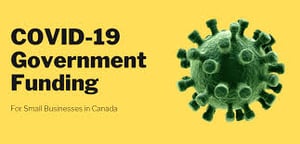 In this blog we wanted to talk about the latest changes in Canada's incentive programs.
Over the past couple of days, there have been a number of announcements with clarifications or minor modifications made to some programs.
CERB ($500/week) for Workers
The CERB opened for applications on Monday April 6th, 2020. The application process turned out to be surprisingly efficient and easy. Applicants must attest but they've been out of work at least 14 straight days, and that their unemployment was caused COVID 19. Even applications done over the phone are quick and easy, and take about four minutes to complete.
We just wanted to review some specific eligibility criteria.
If you have applied for EI for COVID related benefits after March 18, 2020 and have not begun receiving benefits, your claim will automatically be transferred to CERB. You do not need to apply for the CERB separately
The CERB will be taxable income to you in 2020. Just a note, you will receive the full $500 and no income taxes will be deducted from this payment. Again, this income will be taxable on your 2020 personal tax return and taxes will then be due at the end of April 2021.
To be eligible for the CERB you have to have stopped working due to COVID. So even if you were working part time hours and receiving less pay then you would while receiving CERB, you are still entitled to apply for the CERB.
However, as an example, a student who was not working part time before March 15th, 2020, would not be entitled to apply for the CERB even if they made more than the $5000 of income for 2019 to be eligible.
Self-employed people, or sole proprietors, would be eligible to apply for the CERB if their net income for 2019 was greater than $5000, or their net income in the last 12 months was greater than $5000.
It is a requirement of the CERB to maintain records of why the employee has lost their job in the period of unemployment while they are receiving CERB.
In the last few days, the government has clarified that owner managers of corporations that compensate themselves by way of non-eligible dividends can also apply for the CERB, as long as the income from the non eligible dividends is $5000 or greater in 2019 or the last 12 months before March 15th, 2020.
For self-employed people, receiving payment for work performed prior to this crisis, or receiving customer deposits for work to be completed at some point in the future, should not be considered income for CERB eligibility purposes. Businesses are allowed to use the accrual method of accounting for tax purposes. As an example, If a customer gave you a $500 deposit during the CERB period for future work, you have an obligation to either refund that customer their deposit or perform the work that they are engaging you to do, so this would not be considered income when received now.
10% Wage Subsidy for Employers
The 10% wage subsidy for employers received Royal assent or was passed into law on March 25th, 2020. Main eligibility criteria for this 10% wage subsidy is that the employer must be eligible. For the most part, small and medium enterprises would be considered eligible.
Below are some important points to consider for eligibility or ineligibility:
An eligible employer has to have one or more eligible employees.
The eligible employer must have had a payroll account open by March 18th, 2020.
If the eligible employer is a business, they must have been eligible for the small business deduction. For example, the Corporation had to have income from an active business (rental properties is not an example of active business income in most cases). It is important that in a situation where there is more than one company in an associated group of companies, that all companies must be eligible to share in the small business deduction. Speak to your GBA advisor for clarification of this concept.
The 10% wage subsidy does not have to be shared among related or associated companies. Each company in the group can utilized the full $25,000 limit as long as they are eligible for the small business deduction and are an eligible employer.
Sole proprietors are not considered eligible employees. Income derived from being a sole proprietor would not be eligible for the 10% wage subsidy. However, if the sole proprietor had a payroll remittance account and had eligible employees then sole proprietor would be able to claim the 10% wage subsidy on his eligible employees' payroll.
The subsidy is calculated on payrolls paid after March 15th, 2020. It is important to note that the subsidy is on the payment date of payroll and not on when the payroll was actually earned. So for example, if you're payroll date was March 20th, 2020 for the week ending March 13th, 2020, you would be able to claim the 10% wage subsidy on that pay.
The subsidy is calculated by taking 10% of the payroll and reducing the withholding tax that is remitted to the government. For example, if eligible payroll was $5,000, and CPP&EI was $400 and taxes withheld were $1,000. The 10% wage subsidy would equal $500 and you would reduce the taxes withheld payment to just $500 and your CPP&EI payment would remain $400, so your total payment on the source deductions would be $900.
If your total tax deductions are below the calculated 10% wage subsidy, the difference can be applied to future payment periods, even if they occur after June 19th.
The 10% wage subsidy limit is calculated by taking the lesser of the following: $25,000 of total wage subsidies, Or the number of total eligible employees multiplied by $1,375. Therefore, to be entitled to the full $25,000 of wage subsidies, over three months you have to have more than $250,000 of wages end 19 employees. You do not have to have all the employees at one time, as each employee counts as an eligible employee for determining your maximum. For example, if in the third month you hire back employee #16, #17, #18 and #19, and only pay them one payroll, you would still be entitled to the full $1375 per employee in the calculation.
Important note, there is no deferral on payroll remittances - they must be paid on time.
In order for remuneration to be eligible it must be paid by the company between March 18th in June 19th. Employees must still be employed on the date of any eligible payments to be considered an eligible employee.
The 10% wage subsidy received is considered taxable income in the year in which it's received. This subsidy should be reported as other income on your financial statements.
The company will need to keep information to support your subsidy calculation , this would include the total remuneration paid between March 18th 2020 and June 19th 2020, the withholding taxes and source deduction payments, and the number of eligible employees paid in that period. CRA is currently updating reporting requirements, and we expect all these incentives and benefits announced by the government during this COVID crisis to be heavily reviewed/audited in the future.
75% Wage Subsidy
The wage subsidy will reimburse employers 75% of an employee's salary, to a maximum of $847 per week, per employee. This benefit will be reduced by the 10% wage subsidy received. There is no maximum cap for wage subsidies paid to an employer at this time.
The subsidy is available for new employees hired after March 15th as well as existing employees before the crisis.
The employer must experience a 15% or more decline for March period or a 30% or greater decline in revenues for April and May periods, as compared to the prior year to be eligible or the average of January and February revenues for start-ups to be eligible for this subsidy,
The wage subsidy will be available to all employers, large and small, except those that receive public funding,
Employers will have to attest each month that they are doing everything they can to pay the additional 25% of the employees' pre-crisis wages,
Employers will have to apply and reapply for each of the months March, April, and May. Presumably you could be eligible for subsidy one month and not another, and one month is not dependent on another in terms of receiving the subsidy.
Applications for the wage subsidy will be done online through a CRA portal that is expected to be developed and online in approximately 2 weeks. First reimbursement checks should be expected by companies in May sometime. The government suggests that you verify that your company has direct deposit to expedite your reimbursement payments.
Morneau stated that in the beginning the Wage subsidy program was going to rely on companies' self assessing their eligibility. However, afterwards the federal government will review eligibility and assess severe penalties for those companies that abuse or do not qualify for the subsidy, yet have received it.
For companies that do not qualified for the 75% wage subsidy, the 10% wage subsidy remains as a separate program (at least with respect to the information we have at this time).
It is important for companies to note that an employer would not be eligible to claim the wage subsidy for remuneration paid to an employee in a week that falls within a four week for which the employee is eligible for the CERB.
The 75% wage subsidy has not been enacted into law and further details will be forthcoming over the next couple of weeks.
As with a 10% wage subsidy we expect this program to be heavily reviewed and audited in the future.
The 75% wage subsidy will also be reduced by any payments your employees will receive through the EI work sharing program.
In addition to the 75% wage subsidy, if you have laid off your employees with pay - essentially having them stay at home receiving pay but not working, the government announced that you can receive a 100% rebate of the employers portion of CPP and EI paid.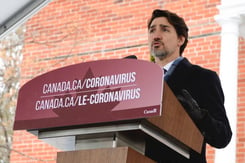 100% Wage Subsidy for Summer Youth Programs
On April 8th, the Prime Minister, Justin Trudeau, announced temporary changes to the Canada Summer Jobs program that will help employers hire summer staff and provide young Canadians access to the jobs they need during this unprecedented time. This program will help create up to 70,000 jobs for youth between 15 and 30 years of age.
Canada's small businesses increasingly depend on the employment of young Canadians. The changes to the Canada Summer Jobs program will help small businesses hire and keep the workers they need so they can continue to deliver essential services.
The temporary changes to the program for this year include:
an increase to the wage subsidy, so that private and public sector employers can also receive up to 100% of the provincial or territorial minimum hourly wage for each employee
an extension to the end date for employment to February 28, 2021
allowing employers to adapt their projects and job activities to support essential services
allowing employers to hire staff on a part-time basis
Additional Compliance Measures
The government confirmed that employers that do not use the subsidy as intended would face "stiff and severe" penalties. In particular, the government advised that employers that engage in artificial transactions to reduce revenue to claim the subsidy would be subject to a penalty equal to 25% of the value of the subsidy claimed, and must also fully repay the subsidy that was improperly claimed.
Your GBA advisor can help you assess how COVID-19 may affect your tax obligations. We can also keep you abreast of any tax-related changes related to COVID-19 that you'll need to consider in the days and weeks ahead. Subscribe to our blogs to stay updated.