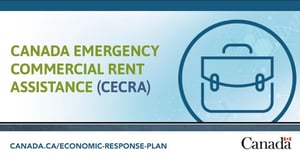 The Canadian Government reached an agreement in principle with all provinces and territories to implement the Canada Emergency Commercial Rent Assistance (CECRA) for small businesses. This program will lower rent by 75 per cent for small businesses that have been affected by COVID-19.
The program will provide forgivable loans to qualifying commercial property owners to cover 50% of three monthly rent payments that are payable by eligible small business tenants who are experiencing financial hardship during April, May, and June.
The loans will be forgiven if the mortgaged property owner agrees to reduce the small business tenants' rent by at least 75% under a rent forgiveness agreement, which will include a term not to evict the tenant while the agreement is in place. The small business tenant would cover the remainder, up to 25% of the rent.
Impacted small business tenants are businesses paying less than $50,000 per month in rent and who have temporarily ceased operations or have experienced at least a 70% drop in pre-COVID revenues. This support will also be available to non-profit and charitable organizations.
It is expected that CECRA will be operational by mid-May, and further details will be announced soon.
So, if you are a business owner paying rent, and you have seen your business revenue reduced by 70%, make sure to ask your landlord whether they will be applying for the CECRA so that they pass the benefit along to you.
---
This blog is not meant to provide specific advice or opinions regarding the topic(s) discussed above. Should you have a question about your specific situation, please discuss it with your GBA tax advisor.
GBA LLP is a full-service accounting firm in the Greater Toronto Area, but we primarily service all of Ontario as well as the rest of Canada virtually, except Quebec. Our team of 20+, provides Audits, Reviews, and Notice to Reader financial statements, as well as corporate tax returns. We also provide specialized corporate tax and succession planning for small and medium businesses, in addition to general advisory services.
If you would like to schedule a call to discuss your accounting or tax needs with one of our team members, please complete the free no obligation meeting request on this page.